As many of you know, we encourage our customers (and potential customers) to ask questions about our sod, seed, fertilizer, mulch, top soil, and other products.
We are also happy to get a wide variety of questions dealing with lawn concerns – both with sodded yards, and non-sodded yards – including weeds, possible diseases, areas that seem to be dying out, pet-related issues, on so on.
Below, we are sharing 2 actual emails that our Turf Operations Manager, Jeremy, has responded to this year, along with 1 more common question that we hear:
Email #1 – What is this plant that keeps growing in my sod?
CUSTOMER:
Jeremy, [I] keep getting the grass coming up in the sod. It seems to grow much faster than the rest of the grass … I keep pulling little shoots like this sporadically throughout the lawn. I didn't know if it was part of your grass or … crabgrass or something else.
JEREMY / RED HEN:
It is Yellow nutsedge. Remember nutsedge is not a broadleaf weed or a grass. Yellow nutsedge is most problematic in turf that is mown too short and has poorly drained soils. They are difficult to control with non-chemical control. I would recommend SedgeHammer+ [which Red Hen DOES carry].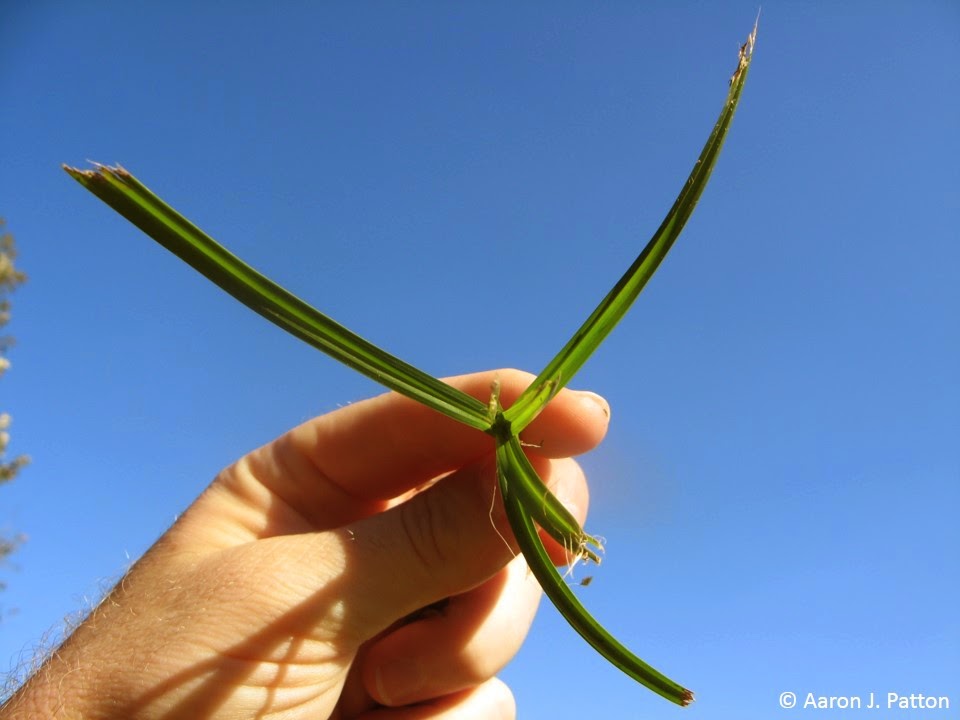 Email #2 – What are these soft spots in my yard?
CUSTOMER
:
Jeremy -Hope that things are going well and you are staying busy.The mulch continues to look good.I have a question for you: I believe that I have moles. A good portion of my front yard has soft spots and above ground there is tunnel like dirt/grass. I do not think it is grubs.Any thoughts on what I should do?
Look forward to hearing from you. Thanks.
JEREMY / RED HEN:
I would buy some Tom Cat Mole Killer. You should be able to find this at a garden center [or even Amazon.com]. Please go to our website and read more about moles, or check out the applicable Google Search Results for "purdue lawn moles" which ensures the results are REGIONAL and BASED ON SCIENCE – HERE'S A LINK TO THOSE RESULTS
Another FAQ –  Is it a Good Time to Seed My Yard?
We get this question year round, and many people are surprised to learn that there are certain times of the year that are MUCH BETTER to plant grass seed than others.
We're officially into mid-August, and NOW is the best time of the year to plant grass seed – typically any time between August 15 and September 15.
When you are out of that window you can have problems like we had last year. Remember the snow we had last November? So I recommend you get on this as soon as you can.
We you purchase seed, make sure you know what you want even before you go to a store. Some things to consider:
Does your yard get full sun or partial shade?
Do you want to fertilizer a couple of times or 4 times a year?
Do you what just green or deep green color?
Generally, the more expensive the seed the better the quality is going to be. If you stay away from ads in newspapers and fancy containers, you will be a wise shopper.
If there is ever a main point I would like to pass on and hope a wise consumer would remember is this:  When it comes to lawn care for the Michiana area, just because a product sits on a shelf does not mean it is good for your yard.
As always, let us know if you have any questions – 574-232-6811 is the Number to Call.
Jeremy Cooper
Red Hen Turf Farm, Turf Operations Manager
LEARN MORE